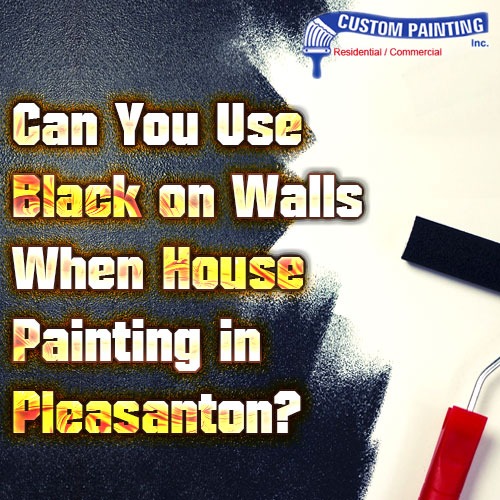 House painting in Pleasanton gives you the opportunity to experiment with any colors you desire to use in your home. Black has been a familiar sight in interior design, adorning furniture, fixtures, and accessories. However, some homeowners and designers willing to take the risk are now painting black on the walls, and they end up with bold, elegant stylish results. While black makes a statement indeed, it can also be a cozy color if you understand how to use it.
The truth is black rooms are all the rage these days, so it means that yes, you can do black walls when doing interior house painting in Pleasanton. But as with any other color, black can make or break a room, depending on how it is planned.
Despite black being "in" nowadays for interior painting, a lot of homeowners are still hesitant to cover their rooms with black as the color is associated with anything macabre. But with the right planning, it doesn't have to look that way at all.
Experiment with black paints in small doses. You can start by painting built-in cabinets, shelves, around the fireplace, trim, and windows to see if you like that. You may also start bigger by painting an accent wall, or one part of your wall. If you have a well-spaced bathroom with good lighting and chrome fixtures, you can paint it with black and see how it goes — these fixtures and lighting will pop out well against the all-black environment.
Do not paint the ceiling! Unless you have a large, high room, black paint on a ceiling will otherwise cause the room to look very claustrophobic.
To tone down the dark look, try to mix up the walls with lighter color, lighting fixtures, and some architectural details such as a chair rail molding that splits the wall with black on top and lighter shades on the bottom.
Minimizing the all-black look can also be done by decorating your space with shiny, metallic, or pale-colored accessories. Or add a "pop" of color to the room with a red or violet velvet couch, or a vase full of colorful flowers. They will provide remarkable contrast and break the overall monotony.
Lighting is very important in an all-black room, whether it is natural or otherwise. So the key here is to keep total control over the use of lighting. Invest in good-quality lighting. One of the best types of lighting is track lighting which illuminates purposefully over the darker portions of the room and highlights some of the decor such as a painting on the wall or your antiques collection.
For the best results when painting the walls with black paint, use glossy paints over matte ones, since paints with sheen will be able to reflect light, and will incorporate much-needed sparkle into the room.
Paint an accent wall with a much lighter color. This will also provide a relief from the other all-black walls, thus preventing your room from becoming a complete "black box."
If you have considered painting the wall with stripes, this is a good idea to create alternating patterns of flat/glossy black paints, or satin/glossy black paints. This technique will provide an amazing, contrasting texture onto the walls.
The great thing about black is that since it is a neutral color, it can go well with almost anything. Black is a versatile color and can look really chic in any room, as long as you follow the abovementioned tips when you do interior house painting in Pleasanton.