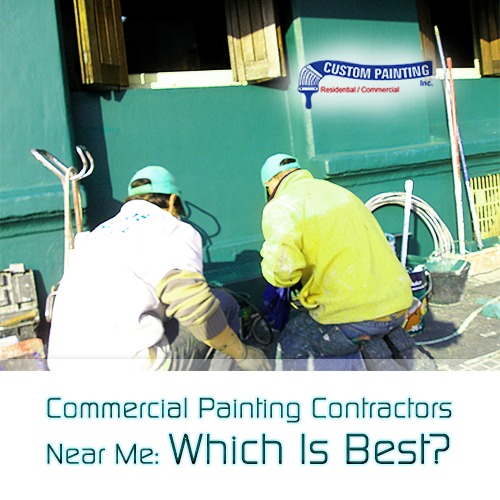 As a business owner, proprietor or investor, you are aware that your business will need to be updated. It's not just about refurbishing your business model or your business strategy, but it's also about refurbishing the overall appearance of your commercial space.
While you are aware that your business needs a fresh new appearance, you should also take functionality, practicality, and productivity into consideration. That's why you should have your establishment painted by a professional contractor.
"Why should I hire commercial painting contractors near me?" The reason is simple: it's good for your business. Which are the best painters? The best painters should not be just painters. They should also be part of the growth of your business by helping you in achieving your goals.
The best commercial painters should be able to give your business a good (or even better) image. Whether your goal is to give your business a certain image or you need to give it some major rebranding, you want your business to be visually appealing to your clients. Having a commercial property that's physically neat, pleasing and well-painted will make a good impression on your potential customers. Moreover, it will promote a sense of confidence and credibility, which will surely translate to more customers and increase in sales.
The best painters should also be licensed (at least here in California, where contractors are required to obtain a license), bonded and insured. Having all these aspects means that these painters abide by the rules and regulations. Having a license also makes for an attractive marketing ploy. Customers would prefer to hire a painter who has a license and an insurance over a painter who doesn't have them.
Of course, experience and skills are among the first considerations that clients look for in a commercial painter. They'd usually ask questions such as, "Are they good?" or "Do they have enough experience?" While some new contractors are new to the industry, they usually compensate that with their skills (as well as marketing savvy) that help them to win customers quickly. After all, all experienced and established painters too had to start somewhere and find their place in the commercial painting industry.
And what else makes the best commercial painter in town? It's the best paints, supplies and tools. It's always recommended to hire a painter who use high quality paints. You may pay them more than you pay painters who use cheaper paints, but you are assured that your property could stand up to heavy traffic when it's coated with a high-quality paint.
The best commercial painters are the ones who follow the appropriate preparation procedures. They do not cut corners just to finish the job quickly, because they know it will result to a poor finish. Preparation usually consists of cleaning and/or washing the surface, repairs (if necessary), taping and priming (if necessary). Some use other methods such as pressure washing and dry/wet blasting on exterior surfaces.
The best painters are extensively trained to apply different kinds of paints on different surfaces – drywall, wood, brick, stone, metals, PVC, etc. They also know which paint finishes (from flat to glossy) are ideal to apply on certain surfaces. Many painting contractors also offer other services such as digital color imaging that will allow their clients to have a clear vision on how the shades will look different in a business setting. In the case of sterile and sensitive environments such as medical facilities and doctor's offices, painters should use only non-VOC paints which do not emit toxic fumes.
They provide not only excellence in their trade, but also excellence in customer service. True professionals are aware that many businesses decide to continue their regular operations while the painting work is still in progress. Before they embark on the project, they should ask business owners first on how they will paint the facilities without disrupting the business. Painters may work on after-business hours, on weekends or even on holidays when needed.
The best commercial painters place a strong emphasis on the quality of their work. They typically perform thorough inspections of the painting job while it is still in progress and will provide you with a detailed progress report once the work has been completed for the day.
For the best commercial painters, safety should be of paramount importance – there are no ifs and buts about it. After all, no one wants to get seriously hurt or get their property extensively damaged. When a painter uses safety gears and follows safety guidelines and procedures, it speaks of their commitment to their trade as well as their sense of responsibility.
These are some of the hallmarks of a truly commercial painting contractor. "How do I know if commercial painting contractors near me the right ones are to work with?" Doing a lot of research on potential contractors and relying on verified testimonies and reviews from previous customers (plus trusting on your intuition) are some of the ways to guarantee you not only hire the right contractor – but the best contractor – that you can ever find.