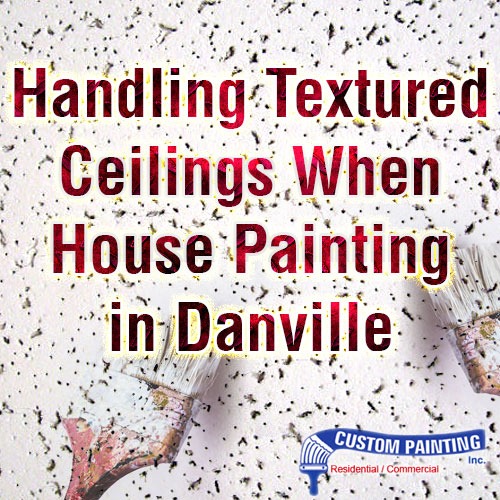 House painting in Danville poses some challenges, especially when handling textured surfaces. And perhaps nothing is more difficult than painting textured ceilings! It is difficult, but it can be done. How? Here are the ways to paint textured ceilings the right way.
Move out furniture and remove any fixtures. Cover any furniture that is too heavy or bolted to the floor. Cover the floor with the drop cloths. Canvas drop cloths are safer than plastic because they won't easily slip.
Set up or erect sturdy ladders or scaffolding tall enough to enable you to reach the ceiling. You may also need to use an extension pole for your roller.
Wear goggles, face mask, and hair covering to protect yourself from dust and possible paint drips and splattering.
Clean the ceiling. The ideal tool for cleaning is a feather duster or a portable vacuum cleaner attached with soft bristles. They help in gently cleaning and dusting off the textured surfaces.
If you decide to paint the ceiling with a color that differs from that of the walls, put painter's tape around the edges of the ceiling to protect the trim or walls from getting paint on them.
Decide what painting method you should take:

Roller – use a nap measuring 1 inch thick to ensure good coverage
Spray gun – using this tool will definitely save you time. But before you start to use it, make sure to read the instruction manual as well as consider all the safety precautions and proper operation of this tool.

You should use textured paints for this job. They are generally thicker than normal paints and are specifically formulated for coarse and textured surfaces.
If you're using a roller to apply paint, pour the textured paint into the paint pan and start rolling it onto the ceiling. If you're using a spray gun, make sure that you spray lightly so that the paint is distributed evenly.
Continue rolling or spraying until you have painted the entire ceiling. You don't have to worry if the first coverage is less than perfect. You will check the ceiling after it is dry to see if there are any spots that you missed. If there are, then apply a second coat.
Allow the paint to dry. Once dried, apply a second coat. Paint around the edges of the ceiling with a regular paintbrush, and do some touch-ups of the spots that you've missed from the first painting.
Allow the paint to dry again. Once dried, remove the painter's tape, as well as the drop cloths on the floor. Put back the furniture and re-install the fixtures.
As long as it's done with the right planning and preparation, painting textured ceilings is not as intimidating as it seems. You will need patience and endurance in covering textured ceilings — repeatedly stepping up and down the ladder, touching up some missed spots, extending your roller or spray gun to paint the entire ceiling to the point of straining yourself a little. But all the effort will be worth it when you look up at your newly-painted ceiling!
If you believe these steps are more than you can handle, contact Custom Painting, Inc. They are a professional painting contractor that knows the ins and outs of painting a textured ceiling and can also do other painting jobs for interior house painting in Danville.