Fremont, Hayward Area
(510) 795-0903
Livermore, Dublin,
Pleasanton Area (925) 294-8062
San Ramon, Danville,
Alamo Area (925) 866-9610
Walnut Creek, Concord Clayton,
Pleasant Hill, Lafayette,
Orinda Area (925) 686-0903
Welcome! Custom Painting, Inc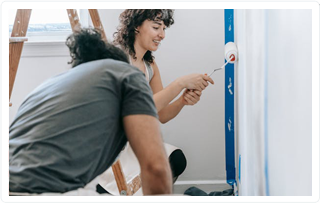 Welcome! Custom Painting, Inc. offers a full range of painting services. We will do house painting in Bay Area cities like Danville, San Ramon, Livermore, Concord, Pleasanton, Fremont, Pleasant Hill, Walnut Creek, Alamo, the East Bay and other nearby cities. Not only do we do house painting, but we also do commercial painting in across the Bay Area. If you need someone to install custom molding, window casings and doors, we would be honored to discuss your project with you.
We are an owner-operated company and have been since we first opened our doors in 1982. We look forward to speaking with you concerning your painting needs whether for residential or commercial painting.
Read More
Featured Articles
Custom Painting, Inc. recently took on the task of transforming a residence with eight distinct rooms featuring natural wood-faced cabinets. The comprehensive endeavor covered a total of 16 rooms, inclusive of bathrooms and closets. A notable aspect of this transformation Read more…
Introduction Water damage to ceilings can be a homeowner's or business owner's worst nightmare. Whether it's the result of a sudden plumbing mishap, a leaky roof, or even a natural disaster, the consequences can range from unsightly stains to more Read more…
Your home is important to you and your family. That is why you don't want to let just anyone paint it. If you are ready to begin house painting in Danville, San Ramon, Fremont, Livermore, or a neighboring city, hire Custom Painting, Inc. We have served the painting needs of
Bay Area homes and businesses for over 32 years.
There is nothing like a new coat of paint to breathe new life into Bay Area businesses. If you decide to do house painting in San Ramon, Concord, Pleasanton or any neighboring city in the East Bay you will experience the same thing. When you decide to contact Custom Painting, Inc., we will send an estimator from our office to your home or business. They will walk around and review your property, they will speak with you about your painting needs, and they will provide you with a free estimate. Call us today at 925-294-8062 to set up an appointment.
AS OF 2006, THE CONTRACTORS STATE LICENSE BOARD REQUIRES ANY CONTRACTOR THAT DOES HOME IMPROVEMENT WORK EXCEEDING $600.000 TO HAVE A STATE APPROVED CONTRACT SIGNED BY THE HOMEOWNER AND THE COMPANY THAT IS DOING THE WORK. THE CONTRACTOR IS ALSO REQUIRED BY LAW TO HAND YOU A FORM THAT LETS YOU KNOW WHETHER THEY DO OR DO NOT CARRY LIABILITY INSURANCE. Did you know there are over 16,000 painting contractors in California? Custom Painting, Inc. suggests that you please choose wisely.
Swatch Book
Chris Newman
I would like to thank Custom Painting for one of the easiest painting experiences I have had. Kevin's quick response to… Read more "Chris Newman"