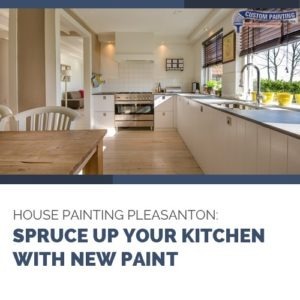 House painting in Pleasanton can be an affordable yet easy and effective way to give new life to an existing space. One of the most popular areas for repainting and remodeling is the kitchen. It is not only the place where food is cooked and prepared. Since it is next to a dining area or is sometimes equipped with a kitchen island, the kitchen is also a place where people gather together for a meal and warm conversations (or important discussions).
Cooking and preparing meals are considered therapeutic. More often than not, a lot of people show their creative side through the dishes they have prepared. For this reason, it is important to keep your kitchen looking good — you cannot find inspiration and fresh ideas if your kitchen looks dull and drab. But you don't have to invest in full-scale remodeling. Just giving your kitchen a new paint color (and maybe adding new decorative pieces) will suffice. Here are some tricks to help give your kitchen a renewed look and vibe:
If your kitchen features one predominant color — such as white — adopt a contrasting look. For example, offset the all-white kitchen by coating your countertop cabinets with a dark brown or ebony paint. This will add the "drama" factor to your kitchen.
Even painting the backsplash alone will give your kitchen a newer and more exciting look. In painting the backsplash, it is important to consider the other colors around in your kitchen before deciding on the ideal color. For example, if your kitchen features dark-colored walls and black granite countertops, paint your backsplash with bright shades or metallic colors.
Think of using bold colors to give some "punch" to your drab kitchen. Don't be afraid to experiment with colors, even ones that are considered garish to some such as hot pink, turquoise, and other neon colors. Pair them with bold-colored decorative pieces to tie the colors of the room together.
Try incorporating rich colors (such as carmine or chocolate brown) on the kitchen walls to highlight your kitchen's white cabinets, countertops, and kitchen island.
One of the most common and effective ways of adding a splash of color to your kitchen is painting the cabinets since they make the dominant part of the space. The cabinets are also the easiest way to spice up the look of your kitchen. You may break the monotony of your kitchen by painting the cabinets with a complementary color, or you may want the cabinets to blend with the rest of the space by choosing lighter or darker shades. You can also add stenciled designs for a touch of art.
It's also a good idea to paint the ceiling. While the lower part usually looks busy with all the appliances, cabinets, cupboards, drawers, tables, islands and decor, a white ceiling might leave the space looking a bit cold. Adding color to the ceiling brings warmth and balance to the kitchen. Your choice of paint may depend on your kitchen's color scheme.
Paint the interior walls of your glass cabinets. This tip is good if you want to highlight your precious glassware and china collection.
Just like cooking, house painting in Pleasanton will help your creativity shine through. Applying these simple but effective painting tips will make your kitchen look good and new once more.