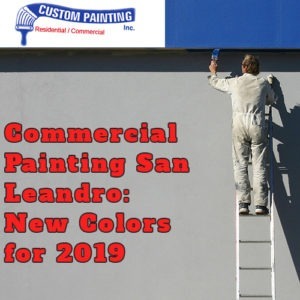 Just like fashion trends, colors come and go in commercial painting in San Leandro. In this article we will explore new colors for the year 2019.
It may depend on the nature of the business that dictates what colors should be painted, but sometimes it's the personal choice of the owner. Sometimes, it's what's "trending" that other businesses may follow suit, especially when it comes to interior colors.
If you want your business to have a fresh start once again this 2019, you may want to consider any of these color options:
Hazelnut
Hazelnut can be a rich addition to various areas. You can say that it is a safe choice since hazelnut is considered a neutral color. But it's not going to be boring, especially when paired with other shades of hazelnut. This color is warm and welcoming and can be paired with many types of furniture or décor without going too extreme.
Coral
People should be seeing more happy and optimistic colors this 2019. So, it only makes sense that the 2019 Pantone Color of the Year – "Living Coral" – is the color that you should consider when you need to revamp your space. If your business concerns real estate, you can re-paint apartments or condominiums with well-placed coral paints, or just their areas such as the bedroom. With even just a few touches of this bright and dazzling color, you will be able to bring energy and liveliness to your space.
Lilac gray
Many interior designers heavily favor gray, and they work around its varying shades. Lilac gray is also one of the colors to hit more interior spaces in 2019. The addition of lilac makes the gray hues warmer, more inviting, and more cheerful. It's also more gender-neutral, as it can work well in certain areas like restrooms and dining areas.
Dark greens
Expect darker shades of green too, to become one of the hit interior colors in 2019. If your establishment uses more natural elements like wood, then colors such as forest green and hunter green should be used to adorn your walls. Hunter green, which first rose to popularity during the 1990s, is on a comeback trail this year. These shades of green are stylish, worldly, and timeless. Not only do these green shades work on walls, but also on moldings, doors, wall paneling, and furniture. They are also gender-neutral. However, keep in mind if you decide to use these colors: they are more ideal for large and well-lit spaces.
Mushroom
A newfound appreciation for anything natural leads to a re-exploration of organic colors and shades. Also, many are re-embracing the 1970s interior aesthetic which consists of natural materials and earth-toned palettes. And so, we pick mushroom as one of the colors to trend a lot in commercial interiors during 2019. Mushroom's muted combination of gray and beige works well with other colors as well as other natural furnishings and décor. It's classic, timeless and effortlessly appealing to all ages and genders.
If you want to give your business a fresh new look in 2019, why don't you try one or more of these suggested colors? Or if you have any other colors in mind, you can also apply them to your business! Commercial painting in San Leandro gives you limitless opportunities in transforming the look of your own establishment into an inviting space to work and do business.