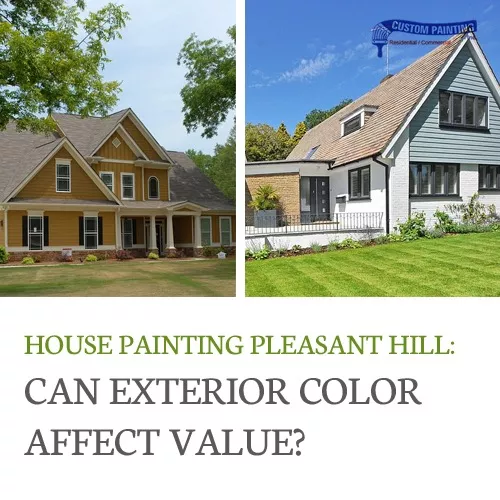 In the world of real estate, appearances are everything, and first impressions last. In order for a potential buyer to be interested enough to look at what's inside the property, they should be impressed by what's outside.
And this is how exterior house painting in Pleasant Hill can help, especially if you plan to sell your home in the near future. As a soon-to-be-former-homeowner, you have the capability to dazzle potential buyers and get your house sold in no time by just as simple as a coat of paint.
In other words, the color of your home's exteriors will be your ultimate sales pitch. Here are the exterior paint color suggestions that can tremendously boost value to your home, and can help you to find a buyer almost immediately:
1. Go for the safest colors:
White – the classic white is the most preferred choice for most home buyers. A recent market survey cites that almost 40% of American buyers go for white as the chief exterior paint color of choice. There are a lot of advantages of re-painting your home white

it makes the house bigger and more imposing
it brightens up the property
it gives the chance for the new residents to enhance its appearance by adding colors to the trim and accents.

Neutral – A lot of buyers are looking for houses that have far more interesting exterior colors than white alone. Examples of neutral colors include beige, cream, tan, and varying shades of gray. Any of these colors can be painted on the siding. Or a combination of these colors — such as gray on the siding, white on trim and tan on accents and more detailed work, for example — will give your exterior home look far more appealing, elegant and classy. Adding a touch of bolder color — such as red on the main door — will definitely add a strong statement to your home.
Darker colors – darker colors are only appropriate if you live in an older, more established neighborhood, or are surrounded by homes of pretty much the same color. Changing its existing dark color by painting it with a lighter may make it stand out — but definitely in the wrong way. Suggested colors include darker hues of tan, gray and blue.
2. Choose colors that will complement your home's building material. If your house is made of natural wood and stone, match them with earth tones such as varying shades of brown.
3. Mind the architectural style of your home. If your home is built in Mediterranean style, paint it with neutral colors like beige, brown, gray or warmer tones like shades of yellow and gold. Or if your home is built in a ranch style, pick grays and beiges for the siding and whites for the trims or vice versa, and add a statement color such as a dark blue-gray for the main door or door and window frames.
4. Take your home's color palette from the surrounding landscape. For instance, a home that is dwarfed by tall trees and lush gardens may look inconspicuous by painting it in darker colors. Try painting your home in lighter colors which will stand out among the tall, lush plants — it will also help your guests in locating your home.
5. Climate and geographical location can also play a big part in your color decision. For instance, bright colors are appropriate for homes located in sunnier regions (such as California and Florida). Darker colors will help your home to stand out in the midst of gray skies and snowy expanse.
Definitely, exterior colors in house painting in Pleasant Hill can affect the selling price of your property. A home painted with the right combination of colors on the siding, trim, and accents can undoubtedly add to its market value. Even the most fickle buyers will be hard-pressed to resist purchasing a beautifully-painted home that is eye-catching and looking as good as new.