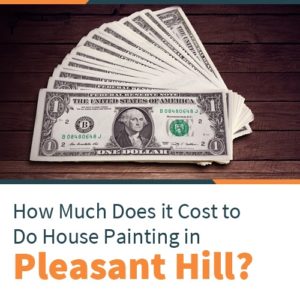 One of the biggest concerns among homeowners whenever they take on a large project such as house painting in Pleasant Hill is the cost. The expenses for the paint alone can be quite a lot, and there are other costs allotted for the preparation and cleaning.
If you want good end results from but you know you don't have sufficient experience in prepping and painting a home, you'd rather hand the job over to the pros. But before you hire one, you may need to look at the factors that will play a large part in the cost of the project.
1. The size of your house – You may want to start at the average cost that a professional painter charges for the service. Usually, the pros would provide you estimates based on your home's square footage. If you own an average-sized home (500 to 1,500 square feet), their services can set you back between $1000 and $3000. But the cost could be more especially if your house is big or spacious.
For instance: if you own a two-storey home, expect to pay between $3,000 to $4,000, or more.
2. Paints – When it comes to materials, most pros usually recommend applying a primer and two coats of paint. The paint could set you back between $400 to $600 depending on the finish, quality, and brand. If your home is average-sized, it needs about 15 gallons of paint to cover the entire exterior.
If you decide to use more than one color, even for accents and small detailed woodwork, the cost can go up to $1000 for an average-sized house. The rates will still depend on the number of paint colors and scope of the work area.
3. Labor – The labor usually takes up the biggest chunk of your budget. Most teams of professional painters charge an average rate between $20 and $35 an hour. An average-sized home would take about six days before the exterior painting is finished (complete with prep work), so expect to pay about $2000 for the labor alone.
The cost can go up though if you pay someone to do the job of disposing or removing things (such as a part of the railing that's beyond repair). The hourly rates for this task may vary from one contractor to another, so ask each contractor you interview about this matter.
4. The type of siding – Not all exterior painting jobs cost the same. You can look at the siding of your home's exterior — it can also be a factor that will affect the overall cost of your project. Professional contractors may also provide you with an estimate based on the type of siding (plus their present condition) they'll be working on. One type of siding can cost a lot more than another type of siding.
The rates presented below only apply for an average-sized house, provided that the surfaces are relatively clean and in good condition (apart from having accumulated dust and dirt).
Concrete siding – from $500 to $1000 (from 250 to 1,500 square feet, respectively)
Metal siding – from $400 to $1,000 (from 250 to 1,500 square feet, respectively)
Stucco siding – from $900 to $3,000 (from 500 to 1,500 square feet, respectively)
Vinyl siding – from $600 to $2,000 (from 250 to 1,500 square feet, respectively)
Wood siding – from $700 to $2,000 (from 250 to 1,500 square feet, respectively)
5. Additional work and expenses
If your home was built before 1978, the walls may have lead in them, which needs to be scraped off. Lead is toxic and removing it can be a serious health hazard, so it should only be done by a professional. Most pro painters offer this kind of service and rates differ from one contractor to another, so it is good to ask them about how much they charge for this.
Painting other exterior features may lead to more expenses. For instance, doors may go around $70 to $150 depending on the height or the width, the type of surface or the kind and number of panels. Painting window sashes may set you back from $100 to $200, shutters from $150 to $400, and downspouts and gutters from $200 to $800.
If your home features unusual and offbeat architectural features (like windows of different shapes and sizes and lots of trim), it may require additional prep work and paint. Ask your contractor regarding the additional work and their corresponding rates.
Considering the size and the complexity of house painting Pleasant Hill, it's always better to leave the job to the pros. Only professional, licensed, and insured house painters will deliver the excellent end results you've always desired — it's worth your budget.