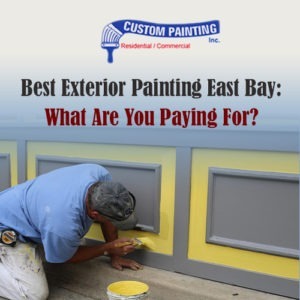 The best exterior painting in East Bay does not come in a flash. It takes a lot of work, and it costs a lot, depending on the scope of the project. But a quality paint job will reward you with a paint that will last up to 10 years.
You will be able to enjoy the best paint job when you hire a paint contractor who has years of experience providing a beautiful exterior paint job to your homes, offices, businesses, and facilities. If you want to know what you are paying for a decent paint job, here's a sample breakdown to give you a fair idea:
Prep work:
Why do you need a prep work when you can go straight to the painting part, right? Well, you can jump to painting right away if you want, but do not expect the job to be smooth. But if you have ever painted a surface before, you probably know the importance of prep work is to a paint job well done.
And professional painters are aware of its importance, that's for sure. Without proper cleaning and repair, the topcoat will be difficult to apply, and your efforts will be wasted. Only the best painters will give tremendous attention to detail throughout the prep work which includes:
Covering the landscape, bushes and other areas not to be painted.
Cleaning (brushing, hose washing, power washing or sandblasting).
Scraping and sanding loose and peeling paint.
Repairing cracks and gaps with caulk or spackling compound.
Removing of rotted wood and replacement with a new one.
Priming (optional).
That is why it is called a "prep work" – to prepare the surface for paint. A clean and well-prepped surface will help the topcoat to bond tightly to it. It's better if you choose a good quality paint for a more solid and durable finish.
Painting:
How long the painting will take depends on how many coats of paint the surface needs as well as how ideal the weather conditions will be. If the weather forecast has declared possible chances of rain, or if the humidity goes beyond 85%, your house or commercial painters will suspend the work until the weather becomes conducive for outside painting or the humidity reaches its ideal range (40% to 60%). By foregoing problems and issues due to bad weather, this ensures that the topcoat will have the strongest bond to the surface.
Final steps after painting:
After painting the entire exterior surface, painters will do a thorough cleanup in the work area – taking off the protective drop cloths and removing the painter's tape, sweeping off the debris and disposing of wastes properly. Usually, the homeowner or the business owner will inspect the finished work extensively to check if any areas need to have touch-ups or additional repairs and clean-up.
A paint job requires a lot of investment of time and money. Only truly professional painters understand that, it is why they make sure you receive the best exterior painting in East Bay job that you deserve.