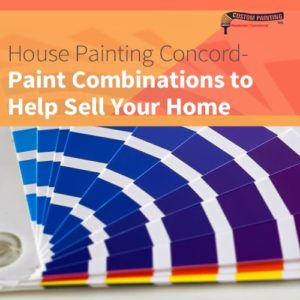 House painting in Concord has the potential to make a home attractive — or an eyesore — depending on the application and the combination of the colors.
The combination of paint colors you choose should definitely please the eye, both for interior and exterior painting. If you have plans to sell your house in the future, remember that a prospective buyer will be interested in checking out the interior when the exterior appearance is already impressive. But a beautifully painted exterior may mislead a potential buyer to examine its interior only to find out that they are shabbily painted. That's why making the interior look good is as important as making the exterior to look impressive, and vice versa.
A house with well-appointed color combinations is likely to attract potential buyers and has a better chance to be sold sooner than expected. Here are some of the recommended color combinations that will help sell your house fast:
Interiors
1. Living room – When painting a home that's meant for resale, people choose default colors like white, light gray, or beige, or a combination of any of them. These colors will allow the new homeowners to add or repaint with their chosen colors, and to match thewalls with the color and style of their own furniture pieces and decor.
Although at some point you may want to impress your potential buyers by adding some color, going neutral is still your best bet — it's the most practical color option.
2. Kitchen – The kitchen is the most popular area for remodeling, renovations or just simply re-painting. It's not only the place where you cook and prepare food; it's also a place for family bonding and for gatherings, especially if the kitchen has an island at the center, is adjacent to the dining area, or connects to a patio outside.
You have more freedom to choose any color combinations for the kitchen. If your kitchen is the usual all-white, you can spice it up by painting the cabinets and other details with red, fiery orange, lemon yellow, mustard yellow, or a combination of any of these for a more colorful and lively effect.
For a touch of drama, you can add black, dark purple, or deep brown for the cabinets and the details. Or add touches of gray and a few shades of brown for a clean and contemporary look. Shades of green — from apple to celery to forest — will make your kitchen looking a lot more refreshing and vibrant.
3. Bedroom – If you plan to sell your home, choose neutral colors for the bedroom like white, beige or light gray, just like in the living room. The new homeowners may add an accent wall or replace the room altogether with a new color that they prefer.
4. Bathroom – You may be tempted to add colors that you like to your bathroom, but it may turn off your potential buyers. So, neutrals like whites and beiges are still the safest options. Besides, these colors make even the smallest bathrooms look spacious.
Exterior
It goes without saying that white is a top choice for most homes. But white is also ideal for painting the window and door frames, columns, railings etc. as they help the primary color (the color of the siding) to stand out, no matter what type it is.
If you want to be safe, choose a combination of neutrals like white, any of several shades of gray or brown, and beige. Whether you choose one color for the siding and another color for the details, nonetheless the results will come out neat and impressive.
Consider also the architecture of your house. For instance, a Victorian-inspired home will look good with a lighter gray or light blue. Colonial homes look best with a combination of neutrals, and hacienda-style Mediterranean homes are typically painted white, warm gray and terra cotta with touches of brick and gold. Modern and contemporary homes typically come in whites, browns, and grays.
Avoid colors that are too bright and garish (such as neon green or hot pink). These colors can make your home totally out-of-tune with the neighborhood and the immediate environment. The wrong choice of color combinations may also attract house shoppers — but most likely for the wrong reasons.
Planning to sell a home means "staging" it to become more attractive to buyers. A simple method like a house painting Concord will ensure a quick sale of a residential property, as long as the right color combinations are applied.