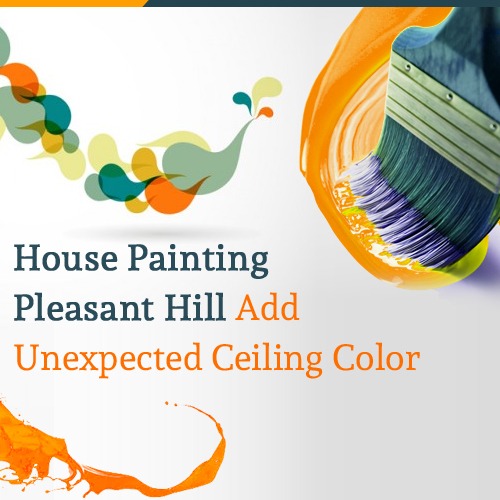 When you think of house painting Pleasant Hill, ceilings are usually the most ignored part of a space. Many people don't think much about a ceiling's contribution to the overall design of a room. Ceilings are typically painted in ubiquitous white, which is mostly for practical rather than aesthetic reasons. White makes the space look brighter and higher, and this is especially true for rooms with low ceilings.
But look at your room with a different perspective. The ceiling, when it's redone with a whole new appearance – color, sheen, pattern, and texture – can dramatically transform the whole look and feel of the space. Consider the following tips on how to add unexpected colors to your ceiling. You will be pleasantly surprised by the results.
For instance, you have an open space that is filled with furnishings, decors, and floor coverings (such as carpets) but otherwise has a bare, white ceiling. The whole space could appear unbalanced and cold. This is because the bottom part of the room is "busy" while the upper part of the room is bare.
To warm up the whole space, consider covering your ceiling with darker colors. For example, coat your ceiling with a dark brown paint with a velvety or eggshell finish to make your open space more balanced and cozy.
If you want to experiment further, try glazes on your ceiling. You may buy paints with specialized effects including metallic and pearlescent coatings. When applied very well, these paints can provide an added texture and dimension aside from color. Metallic and pearlescent paints will enable you to create a design for your ceiling, elevating it into an art form. This will create a "wow" factor to your room!
If you have a small space, or a room with a low ceiling, you can make it appear larger by keeping the color contrast between it and the walls as little as possible. For instance, if you have wheat-colored walls, choose a pale yellow paint for your ceiling. A standard white paint for the ceiling will create a stark division between it and the wheat-colored walls, whereas a pale yellow paint will otherwise provide harmony and moreover open up your small space. And, like white paint, a pale yellow paint on your ceiling will also have the ability to absorb light and brighten up the whole room. To get the best effect possible, choose paints that have an ultra-flat finish – they are excellent for covering surface flaws as well.
Instead of ignoring your blank, bare ceiling, see it rather as an opportunity to unleash your creative expression. Painting your ceiling with a color other than white can be a scary task. But it can also be a great and budget-friendly way to beautify your room. Another good thing about ceilings is that you don't have to fret about fingerprint smudges or nail grooves. So the next time you're about to do house painting remember to give your space a fresh appearance by literally looking up! See how adding different colors to your ceiling will do wonders to your home when house painting in Pleasant Hill.