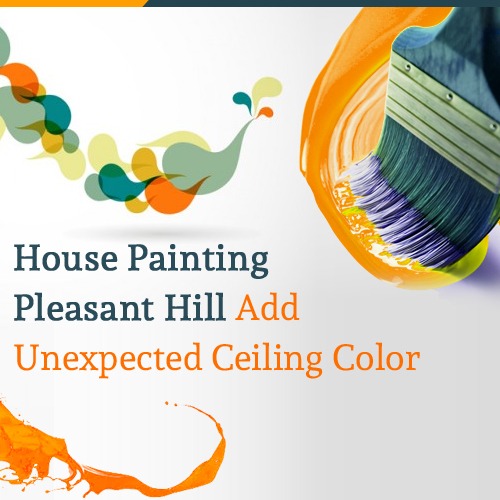 Ceilings are one of the essential features of a building. But when it comes to decorating and house painting in Pleasant Hill, ceilings are often neglected. Many homeowners do not think much about a ceiling's contribution to the overall design of an interior space. Others are hesitant to put color on their ceilings for fear that it may not turn out the way they expect.
Those are the reasons why most ceilings are only painted with various shades of white. Besides, white is a practical choice for the ceiling because it makes a space feel larger and brighter, making it a default color pick for smaller rooms. If you have larger rooms, along with painting the ceiling, consider installing crown molding.
While crisp, bright whites will always have their place "up there," today's top interior designers come up with interiors that are either soothing or invigorating by showcasing ceiling paint color trends in soft or vibrant shades overhead.
Just look at your room with a different perspective. The ceiling, when it's redone with a new appearance – color, shade, texture, pattern, etc. – can dramatically transform the look and feel of your interior space. Check out the following tips on how to add unexpected colors to your "fifth wall." 
Tips for choosing colors for your ceiling
1) Rich or dark colors for the ceiling to create harmony and warmth 
For open spaces filled with furniture, décor, and floor coverings (such as rugs and carpets) but an otherwise bare, white ceiling, the entire space comes off as unbalanced and a little cold. To create harmony, consider painting your ceiling with rich or dark colors. For instance, paint your ceiling dark brown with a velvety or eggshell finish to make your open space look cozier and more balanced.
2) Glazes for the ceiling
If you're not afraid to do some experiment, try adding glazes to your ceiling. You may want to purchase decorative paints, such as metallic or pearlescent paints. When applied properly, these paints will give off an added texture to your ceiling and help brighten the space. Metallic and pearlescent paints will allow you to create a design for your ceiling, elevating it into an art form.
3) Subtly contrasting colors for the ceiling and walls
For smaller rooms or those with low ceilings, make it look larger and higher by keeping the color contrast of the ceiling and the walls as little as possible, while still adding character to your room. For example, if you have wheat-colored walls, choose a pale-yellow paint for the ceiling.

A standard white paint for the ceiling will create a stark division between it and the wheat-colored walls, whereas a pale-yellow color for the ceiling will provide harmony, thus "opening" up your small space. And like white, a pale-yellow paint on your ceiling can also absorb light, giving your room the appearance of a brighter space. To achieve the best possible results, choose paints with an ultra-flat finish as they are excellent for covering surface flaws.
4) Bringing your ceiling down closer
If your ceiling looks disproportionately high or makes your room empty and cold, paint the ceiling in a darker color. The darker the ceiling color, the closer the ceiling appears. This will create a cozier and more intimate environment in your room. Another way to visually lower the ceiling is to paint the crown molding (if your room has it) the same color as the ceiling or by dragging the ceiling color down the walls by a few inches or feet, depending on how high your room is or how close you want to make it look.
5) Decorative painting finishes for ceilings
For high but plain-looking ceilings, you may want to add some decorative painting techniques such as stencils, gilding, trompe l'oeil, etc. These techniques will add flair and character to your room and visually break up an overwhelmingly plain and blank slate. These decorative painting techniques can draw the ceiling closer to you and attract positive attention from your guests.
6) Contrasting colors for ceilings with beams
For ceilings with beams, paint them with contrasting colors so that they will give a lowering effect to your room.
Pointers to help you choose ceiling color
There is no "best" color for ceilings. The best color will always depend on the style of your home, the size of your room, and your personal preference. But if you need some guidance, consider the following pointers that will help you choose the best color for your ceiling:
The style of your home – If you have a home with traditional architecture, you might want to choose more classic colors like white, beige, and gray. If you have a modern home, you might want to go for bold colors and shades such as blue, red, green, purple, pink, etc.

The size of your room – If you have a small room, you may want to choose a lighter color for the ceiling to make the room appear larger and brighter. It doesn't necessarily mean that if your walls are white, your ceiling should also be white. You may want to opt for a lighter shade of any color (such as pastel yellow or powder blue) for your ceiling. This will create warmth and brightness to your room while bringing some color to it.

The natural light in the room –

If the room receives plenty of natural light, you may want a darker color

for the ceiling to balance out the brightness. Conversely, if the room doesn't get a lot of natural light, you may want to paint your ceiling with a lighter color to make it appear bright.

The furniture in the room – If your furniture pieces are mostly dark in color, you might want to choose a lighter color for your ceiling to balance everything out. Conversely, if you have light-colored furniture, you might want to choose a darker color for your ceiling for depth and contrast.
Instead of ignoring your blank, bare ceiling, look at it as an opportunity to unleash your creative expression. Painting your ceiling with a pop of color can be a risky move. However, it can also be visually rewarding, as long as the colors are thoughtfully selected. It's also a budget-friendly way to give character to your room. 
The next time you're about to do house painting in Pleasant Hill remember to give your space a fresh appearance by literally looking up! See how adding a pop of color to your ceiling will make a difference to your interior space. Call Custom Painting, Inc. at 925-294-8062 to set up an appointment to discuss your painting needs today.