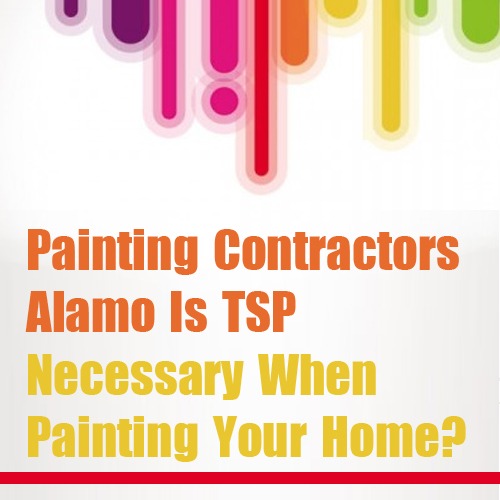 Homeowners looking for painting contractors in Alamo have many questions. They want to know the contractor is within their budget and trustworthy. However, many homeowners want to know about the process of painting their home and the specific chemicals or ingredients used in the products. One item they may be curious about is TSP. What is it and is it necessary to use it when painting a home?
Custom Painting, Inc. understands when TSP is needed. Call them if you have questions –
(925) 866-9610
or
click here
to find out more about our services.
TSP, or trisodium phosphate, is an additive that painters use to clean most painted surfaces in your home before painting. It is mixed with warm water and considered safe; it is often used in commercial laundry soaps as well as an ingredient in some foods.
You may ask why TSP is used. During your day-to-day lives things happen which can affect your walls and other painted surfaces in your home. Grease or spaghetti sauce is splashed in the kitchen getting on the wall and cabinet. Someone who lived in the house previously smoked. There is water damage from leak. The fireplace you enjoy in the winter leaves soot on the walls. There are a myriad of things that can happen that leave a residue on walls. If you are planning to paint, this residue makes painting difficult because the paint won't adhere to the surfaces. This is where TSP can help.
TSP is a degreaser. When the kitchen is being repainted, TSP is absolutely necessary, particularly around the stove. If you fail to remove the grease from the walls and cabinets the paint won't adhere properly. It will take extra time and materials to fix this issue when it could have been avoided by using this wonder-working item.
TSP is also a cleaner. Even though you may not think your walls are dirty, chances are there is more there than you realize. By using TSP to clean walls before painting, painting contractors in Alamo know the surfaces are free of dust and dirt and know paint will adhere properly the first time.
TSP can also be used to de-gloss surfaces that have been painted with high-sheen paint. This would include not only high-gloss paint but also semi-gloss and some satin finishes. By de-glossing the surface first using TSP, it will dull the surface and allow the new paint to stick. Normally the areas are sanded and otherwise prepared before they are washed with TSP. Be sure to rinse with a clean, damp sponge and allow the surface to dry thoroughly.
If mildew is a problem, especially in the bathroom, many painting contractors in Alamo and the Bay Area will combine TSP with chlorine bleach. This mixture will help remove existing mildew but it is not recommended for permanently removing mold from a room. Do not use TSP in the bathroom for general cleaning, however. It can damage grout and stain metal.
As with any additive used in painting, even though they are safe to use, it is important to use gloves, long-sleeves, full-length pants and eye protection. You will want to keep it out of the reach of children and quickly remove any TSP that falls on plants. Of course, if you're using a painting contractor in Alamo, they know the proper use of TSP and will do so to ensure your family is safe.